Say you want to retrieve music stored on your iPod while you're on the road ... or at a friend's?
Did you lose all your songs while reformatting your hard drive... therefore needing to retrieve all the music files located on your iPod?

Pod Manager is the perfect application for these tasks!
State of the art Aqua user interface

Brushed metal interface
Written using Cocoa, exclusively for MacOS X

Intuitive

Very easy to use
iApp look&feel

Responsive
Fast file transfers

Takes advantage of the Unix-based foundation of Mac OS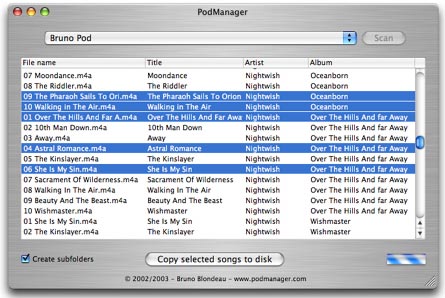 How to use Pod Manager?
Plug in your iPod
Launch Pod Manager
If you want, wait until titles/artists/albums are all displayed
Select the mp3/mp4 files you would like to copy to your hard drive
Once you are ready, click on the "Copy Selected Songs to disk" button
Once the songs are copied, you can for example import them in iTunes

Download
Download this file to freely test Pod Manager. It can also be used as an updater for registered users.


How to order
A convenient and secure online store is available through the eSellerate payment service.

Pod Manager is only $7.95